mgr
Natalia Tułodziecka
Położna, koordynator opieki medycznej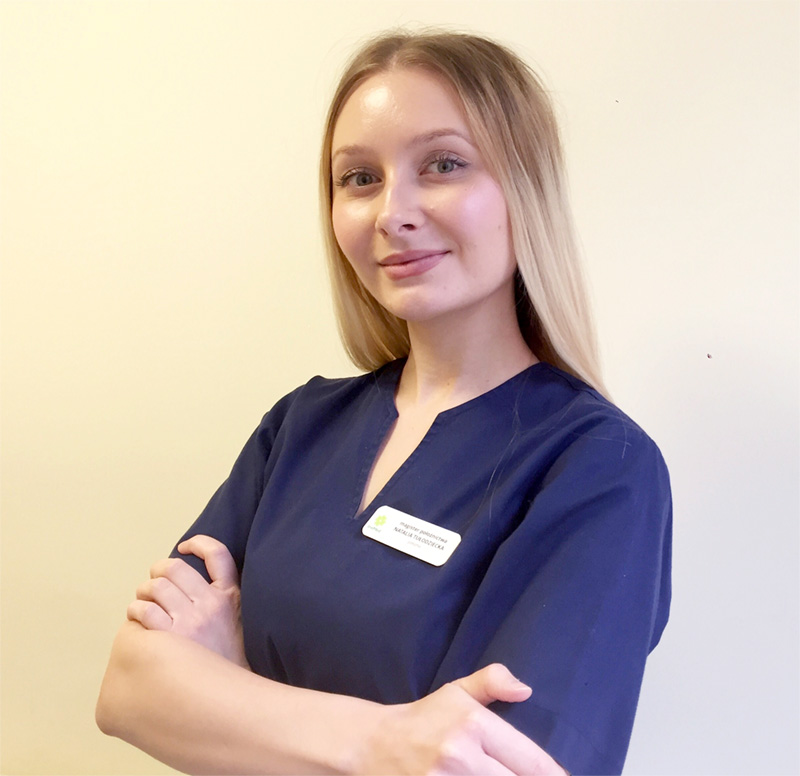 Biography
Professional experience and work in clinical setting:
2018.10- obecnie
– Położna, stanowisko: Koordynator Opieki Medycznej w klinice leczenia niepłodności InviMed Warszawa.
2016.11-2018.
09
– Położna, stanowisko: Specjalista ds. obsługi pacjenta w klinice leczenia niepłodności
Invicta.
2014.08-2016.10
– Położna,
Niepubliczny Zakład Opieki Zdrowotnej "Nasz Lekarz" w Toruniu.
2015.03-2016.05
–
Edukator,
wykłady edukacyjne w zakresie żywienia niemowląt, laktacji i położnictwa,
Randstad Polska sp. z o.o.
Jako Koordynator Opieki Medycznej w InviMed odpowiem na wszystkie nurtujące Państwa pytania. W przypadku, gdy zdecydują się Państwo na skorzystanie z usług InviMed będę koordynować proces diagnostyki i leczenia. Na każdym etapie będę do Państwa dyspozycji. Pomogę skompletować dokumentację medyczną, będę na bieżąco przypominać o konieczności wykonania kolejnych badań i informować o przebiegu postępowania medycznego.


Na pierwszej wizycie w klinice podaruję Państwu komplet materiałów informacyjnych, w którym znajdą Państwo informacje przydatne przed przystąpieniem do diagnostyki i leczenia oraz w ich trakcie. Gdyby okazały się niewystarczające lub mieliby Państwo jakiekolwiek wątpliwości, zachęcam do kontaktu ze mną. Chętnie odpowiem na wszystkie pytania.
Interests and hobby:
Poza zagadnieniami związanymi z pracą położnej interesuję się także malarstwem (S. Wyspiański, E. Hopper, J. Vermeer), kinem niezależnym, jubilerstwem i złotnictwem. Kocham sztukę, chodzę na kurs historii sztuki w muzeum narodowym. Wieczorami czytam inspirujące biografie.